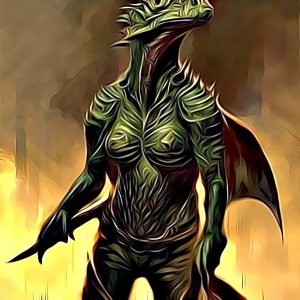 Yuan-ti Name Generator
Use this Yuan-ti Name Generator to find countless random Yuan Ti names for your next gaming adventure, story or any other kind of project. Enjoy!
Discover more random name generators
Show more
Show less
What are the Yuan-ti?
The Yuan-ti are a race of snake-like humanoids that inhabit the jungles of Chult. They are divided into four castes: the Purebloods, who are the most pure-blooded and powerful of the Yuan-ti; the Halfbloods, who are born of two Pureblood parents; the Malisons, who are born of two Halfblood parents; and the Abominations, who are born of one Pureblood and one Malison parent.
The Yuan-ti worship a deity known as the Serpent God, and they seek to spread their influence throughout Chult. They are a secretive race, and little is known about them outside of their jungle homeland.
The Yuan-ti are a dangerous foe, and they should not be underestimated.
A history of Yuan Tis
In many cultures, the Yuan-ti are an ancient race of serpent people whose history is inextricably linked to the history of serpentine gods. Their exact history is shrouded in mystery and myth, but depending on where you read it, they could have come from dragons or ancient humans. They have featured prominently in tabletop and video games, as well as ancient and contemporary literature and mythology. Two ancient Chinese words are combined to create the term "Yuan-ti." "Yuan" means "circle" and "Ti" means "serpent." Yuan-ti, like their namesake, are unmistakably reptilian, so the name is appropriate. Their scales range from pale yellow to deep green, and many of them are born with ophidian eyes, which are snake-shaped. They are frequently depicted as overwhelmingly benevolent beings with connections to the sun, rain, and knowledge in ancient literature and art. They assist the God of the Yellow River, He Bo, in teaching humans how to farm in a Chinese myth. In a similar vein, it is believed that the feathered snake god Kukulkán taught humans how to construct pyramids. The Yuan-ti's physical characteristics can be very different from their mythology. For example, in Dungeons & Dragons, Yuan-ti are divided into two groups: "Purebloods," who look like humanoid snakes, and "Halfbloods," who look more like humans but are less slithery. Many Yuan-ti practice casting spells to control nature and become skilled magicians because of their aptitude for magic. However, they are also thought to be adept at close combat and frequently use swords and maces to combat their ancient foes, sorcery aside. The Yuan-ti's versatility in warfare is probably due to their involvement in a variety of cultures and their extensive geographical spread in ancient times. They are mentioned in Hindu texts, the Bible, and even Scandinavian oral traditions, and they lived in China, India, and the Middle East. Their myth and history are made more mysterious by their reach. Yuan-ti have made their way into numerous contemporary sources over the centuries. These serpentine beings can be found in popular culture in one way or another, appearing in fantasy novels like Harry Potter, cult classics like The Mummy, and video games like Assassin's Creed. Therefore, despite the hazy information regarding Yuan-ti's origin, one thing is certain: These serpent people have been a part of numerous cultures for centuries. They are a one-of-a-kind race with a mysterious past that we can appreciate from afar.
5 questions to help you come up with Yuan Ti names
What cadence do I want a Yuan Ti name to have?
Do I want a name that is long or short?
Do I want a name that is simple or complex?
Do I want the name to include words related to the Yuan Ti's story or background?
Do I want a name that is inspired by nature, such as a creature or a natural element?
Can I use the random Yuan Ti names that this tool creates?
Yes you can. The Story Shack claims no copyright on any of these names, but it is of course possible that some of the values this name generator provides are already owned by anyone else, so please make sure to always do your due diligence.
How many ideas can I generate with this Yuan-ti Name Generator?
The Yuan-ti Name Generator can generate thousands of ideas for your project, so feel free to keep clicking and at the end use the handy copy feature to export your Yuan Ti names to a text editor of your choice. Enjoy!
What are good Yuan Ti names?
There's thousands of random Yuan Ti names in this generator. Here are some samples to start:
Examples of Yuan Ti names

| | |
| --- | --- |
| Idea #1 | Zikoshiuh |
| Idea #2 | Titshushil |
| Idea #3 | Ihloshlal |
| Idea #4 | Zhatstlessi |
| Idea #5 | Sulsuzal |
| Idea #6 | Zhatshishu |
| Idea #7 | Ssulsizal |
| Idea #8 | Ishihsee |
| Idea #9 | Zhetahliuh |
| Idea #10 | Etzulli |
More on Yuan Ti names across the web
Can't get enough of generating Yuan Ti names? Then continue exploring: