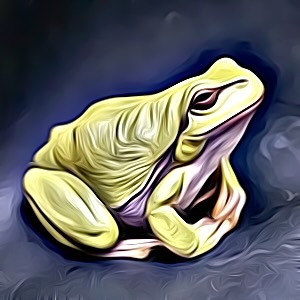 Frog Name Generator
Use this Frog Name Generator to find countless random frog names for your next gaming adventure, story or any other kind of project. Enjoy!
Discover more random name generators
Show more
Show less
What role do frogs play in stories?
Frogs are one of the most popular animals in children's stories. They often play the role of the helpful sidekick, providing comic relief or giving sage advice to the main character. Frogs have also been known to take on more villainous roles, such as in the story of The Frog Prince. In this story, a frog transforms into a handsome prince after being kissed by a princess. While frogs may not be the most glamorous of creatures, they definitely play an important role in many stories.
A history of frogs
Frogs have always been an iconic animal because of their bright colors and long legs. One of the oldest surviving species on the planet, these unusual amphibians predate the dinosaurs. Frogs' history is fascinating and full of fascinating facts that can be researched. The fossils of a creature resembling a frog that were found in Eritrea, Africa, are thought to be more than 250 million years old, dating back to before even some of the first dinosaurs existed. In contrast to the more familiar amphibians of today, some of the earlier frogs were characterized as having large heads but small limbs. At the same time, other types of frogs developed that took advantage of their long legs to avoid predators and settle in areas with plenty of food. Many of these animals evolved remarkable environmental adaptations over time. For instance, arboreal frogs were able to leap from branch to branch by clinging to trees. Some of the earliest fossils of frogs even show that they had wings, indicating that these animals could have flown for short distances at one point in time. It is believed that this adaptation inspired other animals to take to the air, such as modern-day dragonflies, despite the fact that this adaptation is likely to have vanished over time in favor of the simpler method of jumping and hopping. Additionally, frogs have produced some of the animal kingdom's most intricate colors and patterns. Each species of frog has a distinctive color that helps it find food or protect it from predators. This phenomenon, also known as "warning coloration," is a trait that can be found in a lot of different animal species. Frogs' ability to absorb oxygen through their skin is yet another fascinating adaptation. Because they are less reliant on their gills for oxygen absorption, this trait gives them an advantage in areas where the water lacks sufficient oxygen. It is likewise accepted that frogs assumed a significant part in a large number of the old societies, from Mesoamerica to Egypt. They were regarded as a source of food in some cultures and as a symbol of rebirth and fertility in others. A frog was associated with the goddess Heqet and a symbol of fertility in ancient Egyptian mythology. Frogs have existed for millions of years and have adapted to numerous global environments. They are a constant reminder of the beauty of nature thanks to their iconic colors and intricate adaptations, which have made them an essential part of the animal kingdom.
5 questions to help you come up with frog names
What are some other animals or objects that frogs are typically associated with?
What time period or culture are you trying to evoke with the name?
Are you looking for a silly name or one that feels more serious?
What kind of emotions do you want the name to evoke?
Do you want the name to be more descriptive or more abstract?
Can I use the random frog names that this tool creates?
Yes you can. The Story Shack claims no copyright on any of these names, but it is of course possible that some of the values this name generator provides are already owned by anyone else, so please make sure to always do your due diligence.
How many ideas can I generate with this Frog Name Generator?
The Frog Name Generator can generate thousands of ideas for your project, so feel free to keep clicking and at the end use the handy copy feature to export your frog names to a text editor of your choice. Enjoy!
What are good frog names?
There's thousands of random frog names in this generator. Here are some samples to start:
Examples of frog names

| | |
| --- | --- |
| Idea #1 | Aristotle |
| Idea #2 | Legs |
| Idea #3 | Freddie the Frog |
| Idea #4 | Artie |
| Idea #5 | Archimedes |
| Idea #6 | Yoda |
| Idea #7 | Jeremiah |
| Idea #8 | Goliath |
| Idea #9 | Hip Hop |
| Idea #10 | Yoda |
More on frog names across the web
Can't get enough of generating frog names? Then continue exploring: